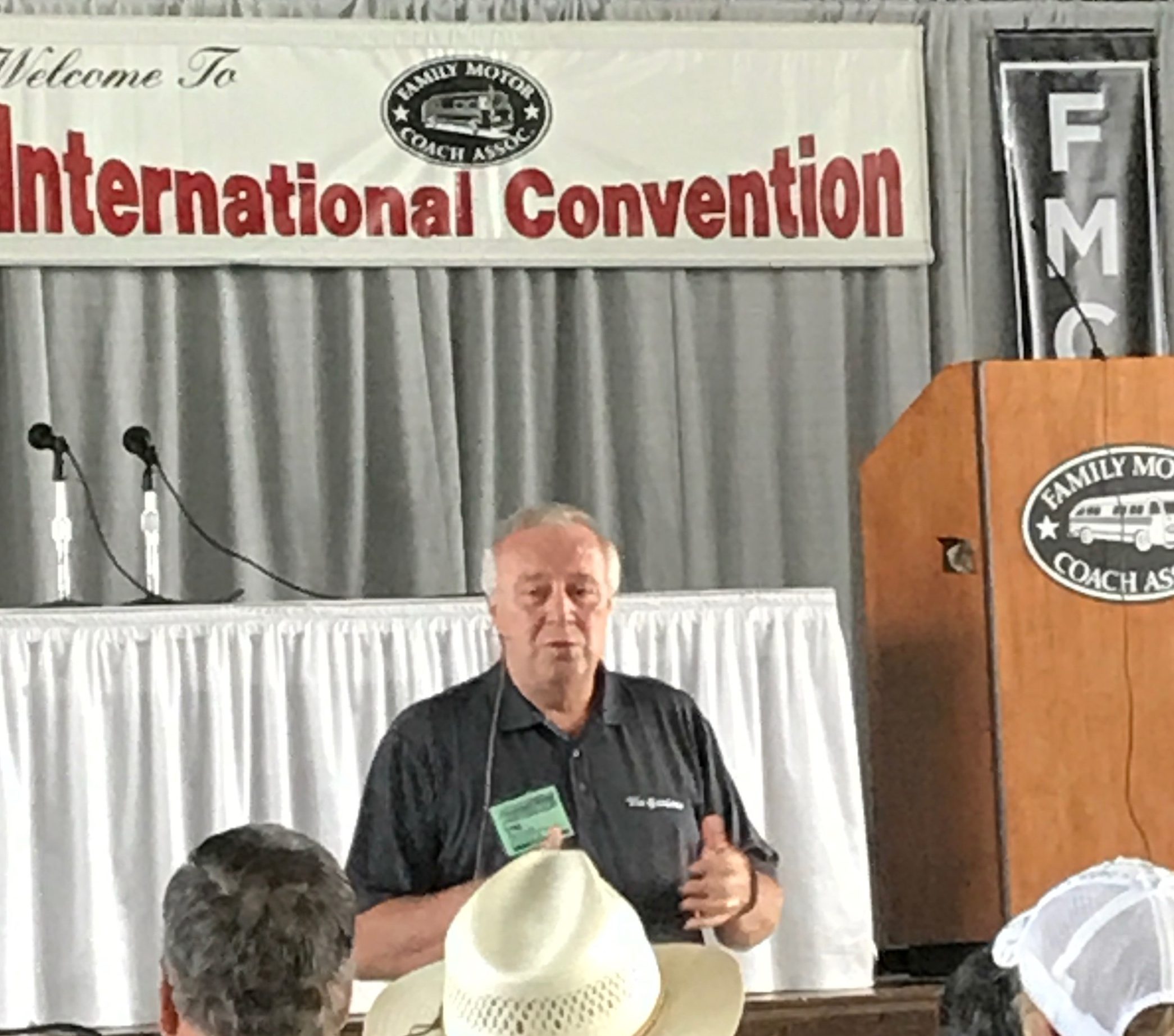 When Resort Trades' Founder and CEO Tim Wilson learned what a large percentage of retirees also owned recreational vehicles (RVs), he wasn't surprised. "After a full life of work, raising a family, and having multiple responsibilities, it's time for them to explore their passion for travel and exploration," he says. "I took over the development of The Gardens RV Village from my dad in 2002. He had launched the project in the Tennessee highlands in the late '80s to be a home base for RVers where they can have their permanent residence and a full-sized attached RV garage with full hookups. It's still a family business and we've watched it grow to more than 200 homes."
As Principal Broker of Gardens Realty LLC, Wilson oversees the property's marketing, sales and construction activities. He has found one of the most instructive ways to introduce The Gardens to RVers is by being on the national speakers' circuit. His platforms include speaking at huge international RV rallies, as well as to attendees of regional association shows, where he leads a discussion on the topic of how to get the most out of retiring while still enjoying RV travel and the confidence of having a well-built home as an asset.
"I've spoken to thousands of couples over the years about how a home base community like The Gardens can be the best of all worlds," he says. "You need to remind people of how travel enhances their lives and their relationships. And then you must explain how your project makes the most economic sense."
His audience typically consists of RVers who are either newly retired or planning for the future. His most recent speaking engagement was for attendees at America's Largest RV Show, held in Hershey, Pennsylvania. RVers from that state as well as other New Englanders who are concerned with the high taxes in the area are inevitably amazed to learn about the Tennessee tax structure…in essence, there is only a regular tax on retail goods. There's no state income tax, no education tax, no personal property tax. Plus, the city and county taxes on real estate are extremely low. His talk focuses on all the options retiring RVers have, after which he explains the specific advantages of buying a home in the Gardens.
Wilson has hosted a number of discussions about RV retirement before audiences nationwide, including at the Family Motor Coach Association (FMCA) Rally & Expo in Gillette, Wyoming, and the Winnebago 2018 Grand National Rally in Forest City, Iowa, in July. For several decades he has addressed thousands of RVers, teaching how the Gardens can help them get the most from the RV lifestyle, build a network of like-minded friends, and maximize this stage of their lives.
"In the past twenty years, I've worked with thousands of people planning what I call 'Phase III' of their lives," says Wilson. "While I'm not a licensed therapist, I can draw on many years of counseling RV retirees who are asking these questions."
How will I be spending the last active years of my life?
What dreams have I longed to recognize and can I afford them?
Will the decisions I make strengthen or threaten my relationship with my spouse?
How can I best ensure our ongoing financial, emotional and physical health and get the most from the RV lifestyle?"
According to one resident, "Living in The Gardens RV Village has been a total game-changer for us. For one thing, we have been able to really get to know so many other people. Back in our former home, after the kids were grown, we found we just had no friends around us anymore. Many had moved or we just no longer had anything in common with others. Our friends in the Gardens are the most caring and supportive people; it's like a big, extended family. We all share the common interest of RV travel, but we also find that we all like to get together; we love to gather. That's so important at this stage of life!"
"This is the most common comment we get," says Wilson. "Our homes are gorgeous, the attached garages are wonderful for preserving the life of the RV, and the rolling hills, water features, and landscaping is lovely; but it's the people that make the difference."
After discussing the benefits of living in Tennessee, such as low property taxes (the annual city and county taxes for a $400,000 home come to a little more than $1,000), he mentions there is no state income tax on pensions. He tells how the Gardens is centrally located on the Cumberland Plateau of Eastern Tennessee. Its Crossville location offers the best of all worlds: quick and easy access to more than one Interstate; proximity to several major cities, including Nashville and Knoxville and a warm, friendly town of 10,000. Whether seeking an existing resale home or wishing to build-to-spec, buyers of a Gardens home will obtain a custom-designed home built by quality builders.
Others desiring more information can visit http:// http://gardensrvvillage.com, where they can also sign up for the monthly Property Report listing available resale lots and houses, with pricing and descriptive information. Wilson urges his attendees to call 931-456-7794 and book a free, two-night/three-day visit to The Gardens at 18 Our Way Drive, Crossville, TN 38555.
2019 EVENTS
Wilson is scheduled to speak next at the FMCA's 99th International Convention & RV Expo March 13-16, 2019 at the Georgia National Fairgrounds & Agricenter in Perry, Georgia. Prior to that event, Tim will be available for a conversation, first-hand, at the 2019 Florida RV Supershow, which is hosted by the Florida RV Trade Association January 16-20 at the Florida State Fairgrounds in Tampa.