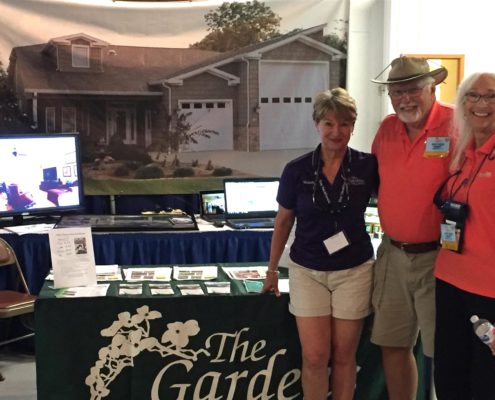 Kit Cameron from KIOW Radio interviewed Don and Cathy Tarro of Crossville, Tennesse about what it is like living in The Gardens RV Village – an RV Home Base Community – at the 2017 Grand National Rally for WIT Club Members. Listen to Cathy in this audio clip or read below their conversation about The Gardens and the oversized RV Garages!
Kit:  This is Kit Cameron out on the grounds talking to Don and Cathy Tarro from Crossville, Tennessee. How are ya'll doing?
Cathy: Ah, we're doing just great. We're enjoying the rally and enjoying the breeze!
Kit: I was going to say we're here in the shade with the breeze; it couldn't be more perfect.
Cathy: It couldn't be more perfect. It is absolutely wonderful.
Kit: Tennessee is a little on the warmer side than this though?
Cathy: A little bit, but the winters aren't as harsh, and that's what you have to look for. How bad is my winter going to be?
Kit: Oh, I totally hear that! Now you're not originally from Crossville. Originally you're from?
Cathy: Originally we're from Northern Illinois from the Rockford – Byron, Illinois area. It was time to downsize the big house, 5 acres, and doing the lawn and all that kind of thing. So we moved into a retirement community that is specifically for RVers.
Kit: Oh, how does that work?
Cathy: It works beautifully. It's a community called The Gardens, and what you do is you build this HUGE, GREAT, BIG garage for your RV which has electric, water, and sewer, and then you build this nice little house that is attached to it.
Kit: Really? So you just pull in and stay there as long as you want.
Cathy: Yeah, and it is maintenance free for us. You can have services come in and take care of the lawn or whatever when you're gone. And the other thing that is so wonderful about it is the RV people themselves. They are a unique type of individual that loves to explore, are friendly, open, welcome you and say, "Hey girl, come on in. We're having sweet tea!"
Kit: Well I haven't heard of an RV community like this. Is that kind of a new concept?
Cathy: There are some others around like the Florida area, and I think there might be one in Texas. We just happened on the Crossville, Tennessee one as they have a booth here on the rally grounds.
Kit: So your spot is there kind of year round and then you pull out, travel around, and pull back in.
Cathy: Absolutely, and for example, we left at the beginning of May. We did a caravan called the Lewis and Clark Caravan that took us from St. Charles, Missouri all the way out to Astoria, Oregon following the Lewis and Clark Trail. We haven't been home yet! We will eventually get back there.