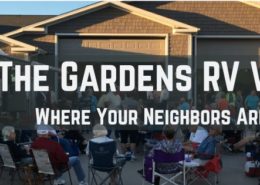 Every year Jim and Marcia throw a party for the homeowners living in The Gardens RV Village, an RV Retirement Homebase Community. They always host it in their RV Garage. This year, the fun expanded to Ken and Chris, their roof mates' garage, as well as both driveways. RVers who were interested in The Gardens and staying on Homeless Hill (our private campsite) were asked to join in on the festivities.
Here are the top 3 things we enjoyed!
The People
One of the reasons RVers come to The Gardens is because they love the location. Many people come from all over the world to live in our RV community. This means they have the best stories about their lives and also their shared stories of traveling in an RV. Not to mention, RVers are the friendliest people, and when living in an RV community, your neighbors start to become your family.
The Food
A potluck with 50 of your closest friends bringing delicious, homemade food for everyone to dig into is always a plus. Just imagine dinner in one garage and desserts in the other. Now imagine the feeling of complete gluttonous satisfaction after trying a little from each dish!
The Event Space
Anyone can have a party, but having a party in two large RV garages tops the cake. Party-goers brought their chairs and had the choice whether to lounge in the air-conditioned garages or catch the sunshine in the driveways.
If you are interested in our RV Retirement Community or have any questions, call our office at 931-456-7794 or send us a quick message below!