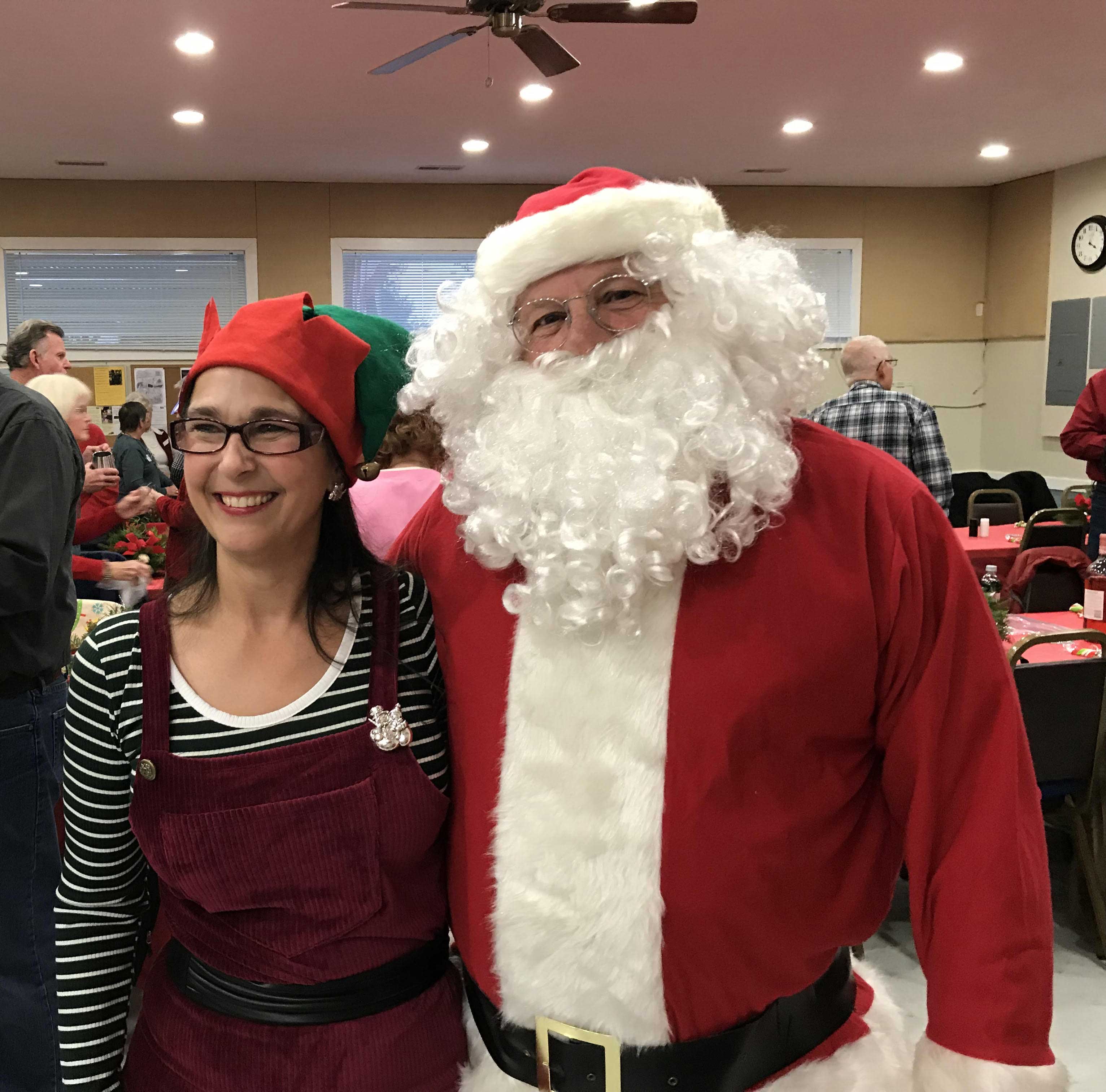 Residents of the Gardens RV Village Celebrate the Season With a White Elephant Gift Exchange, a Cornucopia of Food, and a Mystery Santa!
Everyone wondered who Santa was at the beginning of the Gardens RV Village HOA Christmas Party held on Friday, December 7, 2018. Where had he come from? Members of the jolly parking team, officiated by Eugene and Sparky, did not report the arrival of a sleigh. And, yet, there he was with the requisite red suit and white beard. (Although, he occasionally sputtered as he would accidentally start to inhale the white fluffiness, belying the authenticity of his whiskers.)
What an excellent disguise! After he discarded the cotton beard, I overheard Betty B. remark, "Oh, Steve! I didn't even know it was you!" The mystery had actually been solved earlier when his wife, Robyn, showed up as his elf. You could not find a more impish elf, even if you had somehow lured Will Ferrell to attend. Robyn, A.K.A., Mistress Elf, assisted Santa in distributing sweets throughout the crowd, which was estimated to be almost 90 folks.
The evening began auspiciously under the expert direction of the ever-expanding team of jovial parking attendants. The event was held at the Disabled American Veterans Hall on Sparta Drive, in Crossville, Tennessee.  It turned out to be the perfect venue for the event – cozy without being too tight. "I asked Matthew Wilson if Gardens Construction would underwrite renting the hall and he didn't hesitate for an instant!" said the Gardens' Social Committee Chair Silvia.
We entered the hall to find it filled with linen-draped tables topped by seasonal greenery arrangements, which had been created by Mona. Her exquisite taste was evident in the rich variety of wrought-iron wire baskets brimming over with branches, bows, berries, and ornaments. We cannot imagine the number of hours it must have taken to design, shop for materials, and create these! Mona later grinned as she described sending Lloyd to Lowe's for tree remnants. "We asked them if we could sweep the floor and pick up the balsam, pine, and other pieces of evergreen. They were very happy to see us haul it away! In the end, I made 25 baskets in all – 16 for the party and the rest for friends."
Linda D. was helping with name badges for anyone who had forgotten their Gardens badge at the door. Although many of the Gardens' 400-plus residents were on the road, there was no shortage of company. One look at the potluck spread stretching across a number of eight-foot tables and extending to the hall's serving area was enough to assure us there would be plenty of revelers. While everyone had brought covered dishes galore, including salads, vegies (yup, we're up with nutrition), and plenty of deserts; Silvia, Beverly, and Marylee had spent many, many hours cooking a ton of turkey and preparing gravy. "I thought my hand would fall off after peeling 25 pounds of mashed potatoes!" Silvia said.
After dinner, Silvia and her team made a few announcements, followed by a White Elephant Exchange. (While I always heard the game referred to as a 'Yankee Swap,' Eugene jokingly quipped this morning that we didn't want to offend any Yankees.)   Earlier in the evening, anyone who wanted to play brought a gift worth no more $10, which was assigned a number.  After the game starts, each person gets a crack at picking a gift corresponding to whatever number they drew from a hat. The person who picks the first gift opens it to show it to the rest of the company. The next participant can then either steal the first person's gift or pick a new one. From then on each player can either pick and unwrap a new gift or 'steal' someone else's. Everybody gets a gift in the end, but with lots of good natured robbery and protestations in the process.
"The gifts with beer and snacks were the most popular," said Silvia, "and also a set of stainless steel wine tumblers. I kept losing the chocolate that I wanted. I guess I should be glad for the sake of watching my sugar intake, but still…."
If she were serious about wanting chocolate, I'm sure Santa and his elf would have been able to oblige! Good thing we found out Santa's identity, huh, Silvia?
3006
false
false
true
false
true
true
false
auto
false
ease-in-out
300
false
0
true
false
%curr% of %total%